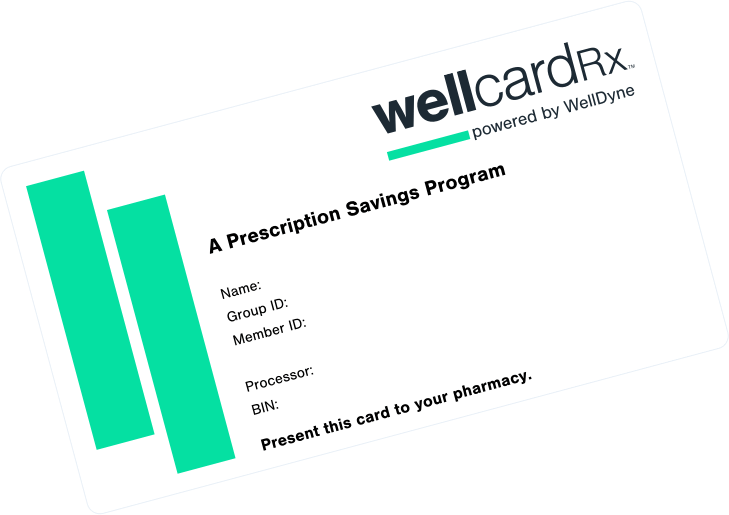 WellCardRx FAQs
Find answers to your most frequently asked questions about the WellCardRx Prescription and Health Care Discount Card.
Q: What is WellCardRx?
A: WellCardRx is a health and wellness discount card offered by WellDyne. With your WellCardRx prescription and health care discount card, you'll gain access to discounts on a wide variety of health and wellness products and services at reduced costs.
Q: How do I get a WellCardRx card?
A: Fill out the registration form on our Get A Card page to get your WellCardRx prescription and health care discount card today.

Q: Is my WellCardRx insurance?
A: No. This is a free program and is NOT insurance. Non-prescription, medical equipment, and over-the-counter products are not included in this program. The prescription discount program is not an insurance plan or program that covers prescription drug costs or arranges for prescription services. Prescriptions may be filled at any pharmacy; however, the prescription discount card program provides a discount only at participating pharmacies. Void where prohibited by law. WellCardRx offers multilingual and hearing-impaired support. This is not a Medicare Part D prescription program, and it cannot be used in conjunction with any third-party payor program, including Medicaid and Worker's Compensation.

Q: What can I use my WellCardRx card for?
A: You can use your card for discounts on:
Q: How does WellCardRx work?
A: Select a provider from the list of participating providers for the service you're interested in on www.wellcardrx.com. Call to confirm that they participate in the WellCardRx program and schedule your appointment. Pay the discounted rate at the time of service or upon receipt of your prescription. If you are unsure how to proceed, call WellCardRx at 800-562-9625.
Q: How do I find a participating provider?
A: Use the "Locate a Provider" section for the service that you are interested in to find a participating provider.
Q: How soon can I use my card to start saving money?
A: Your card can be used immediately.
Q: Are all members of my household included on my card?
A: Yes. Your card can be used by all family members living at the same address.
Q: Is my information kept private?
A: Yes. WellDyne and the prescription and health care discount card are HIPAA compliant.
Get a card and start saving today! Enrolling is quick and easy.